Requirements
Hardware and software requirements for smooth running
 

Advanced System

For heavy use of 1080p video backgrounds, live outputs (inc NDI) and multiple remote app connections.

Basic System

For light use of 720p video backgrounds and still images, a single live output and remote control app connection.

Processor

Intel i5 or i7 (or AMD Ryzen 5 or 7)
2.5+ GHz Quad Core
Intel i3 (or AMD Ryzen 3)
2.0+ GHz Dual Core

Memory

8GB+ RAM
4GB+ RAM

Graphics

Dedicated graphics chipset:
NVIDIA GeForce GT(X) series
AMD Radeon R7/R9/RX series
Integrated graphics chipset:
Intel HD or Iris Graphics
AMD Radeon Graphics

Storage

SSD with 1GB free space
HDD with 1GB free space

Operating System

Windows 8.1, 10 or 11
Windows 7, 8/8.1, 10 or 11

(Optional)
Microsoft PowerPoint

(Optional)
Full version of PowerPoint
(2013 or newer)
(Optional)
Full version of PowerPoint
(2013 or newer)
What Are Your Presentation Needs?
There's really no ideal or recommended PC specification for running ZionWorx 4. It all depends on how you will use the system.  We've tried to optimise the software as much as possible so it's lean and fast.  This means it will run on even a low spec laptop.  For simple presentations that are not 'video-heavy' that might be all you need.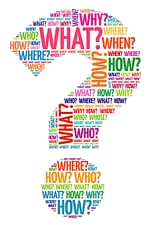 But once you start scaling up the amount of media you use e.g. higher resolution videos, longer playlists and simultaneous live outputs, then resources will be stretched in terms of RAM, CPU and graphics processing.
We've provide specifications for two possible systems above based on heavy and light usage, but even these are only guidelines.  There's no substitute for trying out the software on your own hardware to see how it performs.

Will It Run On A Mac?
Yes, but only on Windows!
This means you have 2 options:
Use Parallels VM software with Windows
Use Boot Camp and dual boot with Windows
Both these options work well and allow you to run ZionWorx on Mac hardware. We may develop a native MacOS version in the future but we have no plans right now...
Using Windows Extended Desktop
(Press Windows Key + P)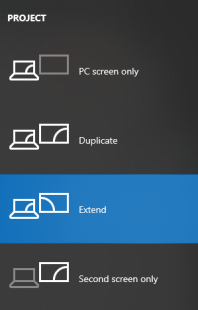 Please Note:
For normal presentation use, ZionWorx uses 2 independent monitors in the Extended Desktop configuration:
A desktop PC needs 2 external video outputs to achieve this.
A laptop PC uses the built-in screen and 1 external video output.